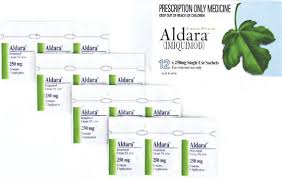 Imiquimod or Aldara cream is used to treat certain non melanoma skin cancers. They work by improving your immune system to clear the cancers. It produces a reaction in the form of red scabby skin. Once the cream is stopped the skin heals.
The conditions that can be treated are Actinic(Solar) Keratosis, Superficial Basal Cell Cancerand Squamous Cell Cancer in Situ (Bowens Disease) or early SCC.(off licence use)
*A randomised study of topical 5% imiquimod vs. topical 5‐fluorouracil vs. cryosurgery in immunocompetent patients with actinic keratoses: a comparison of clinical and histological outcomes including 1‐year follow‐up
Conclusion Imiquimod treatment of AK resulted in superior sustained clearance and cosmetic outcomes compared with cryosurgery and 5‐FU. It should be considered as a first line therapy for sustained treatment of AK.